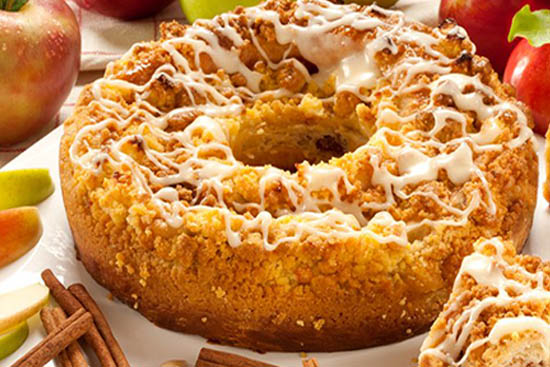 Preparation time:
25 minutes
Totaltime:
1 hour 15 minutes
Ingredients
For topping:
3 tablespoons granulated sugar
2 tablespoons flour
1/2 teaspoon cinnamon
1 tablespoon melted butter
1/2 cup chopped pecans
Batter:
2 cups flour
1 1/4 cups sugar
1 teaspoon baking powder
1/2 teaspoon baking soda
1/2 teaspoon salt
1 teaspoon cinnamon
1/4 teaspoon nutmeg
2 eggs
1 cup sour cream
1/4 cup shortening
1 cup peeled grated apple
Preparation
In a mixing bowl, combine the topping ingredients, mix well and set aside.
Preheat oven to 350 degrees.
In a large mixing bowl, combine flour, sugar, baking powder,
baking soda, salt, cinnamon and nutmeg.
Beat eggs, sour cream, and melted shortening in a small bowl.
Stir into dry ingredients and mix just until blended. Stir in apple.
Spread evenly in a greased 9-inch-square pan. Sprinkle topping over batter.
Bake for 45 to 50 minutes. Serve warm or at room temperature.