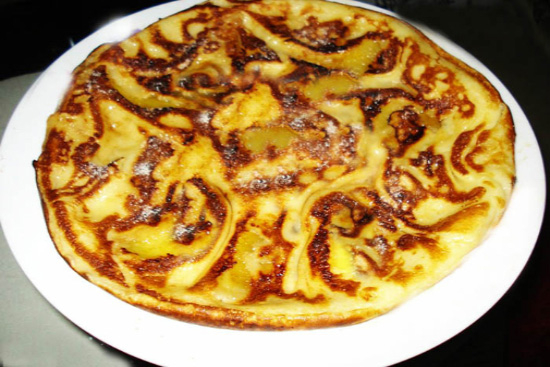 Preparation time:
30 minutes
Totaltime:
30 minutes
Ingredients
For crêpes:
1 cup flour
1/4 cup vegetable oil
2 eggs
2 egg yolks
1 1/2 cups milk
1/4 cup unsalted butter
1 teaspoon vanilla or rum extract

For apple mixture:
6 large baking apples
1 tablespoon butter
2 tablespoons brown sugar
1/4 cup Calvados or apple brandy
1 teaspoon cinnamon
Preparation
Crêpe batter:
In a medium bowl, combine flour, oil, eggs, egg yolks,
and 1/2 cup milk, beating until blended and smooth.
Add remaining milk, whisking until batter is smooth.
Strain batter into a clean bowl. Refrigerate, covered, for 2 hours or longer.
Melt the butter over low heat, and mix into the crêpe batter.
Flavor with vanilla or rum extract.

Apple mixture:
Peel apples. Core and slice thinly. Melt butter in a non-stick frying pan.
Add apple slices. Sauté for 2 minutes over high heat.
Add brown sugar and Calvados or apple brandy.
Sprinkle cinnamon over cooked apples. Transfer to a bowl.

Make apple crêpes:
Heat a 7-inch non-stick skillet until a drop of water sizzles and rolls off.
Pour in 2 tablespoons of batter, rotating pan to cover bottom of skillet evenly.
Spoon 2 large tablespoons of prepared apple mixture over crêpe,
spreading evenly over surface of crêpe.
Pour enough batter to cover apples. Cook for a minute.
Flip the pancake. Use a spatula if necessary. Cook till brown.
Transfer apple crêpe to a greased baking tray.
Continue cooking remaining crêpes.
Can be prepared 2 hours ahead.
Preheat oven to 400 degrees.
Finish baking crêpes until apples are soft, 10 to 12 minutes.
Place a crêpe on each plate.
Top with vanilla ice cream and sprinkle with cinnamon.
Serve at once.
Note: as an alternative, use half apples, half pears.